I went to the library in the next town over the other day. (If you have a library card in my state, you can borrow from any library in the state's network.) This was primarily because they have a much wider selection of Westerns than the library in my town.
However, as the librarians have mentioned, these Westerns are kept mostly to satisfy a handful of enthusiastic older gentlemen who stop in every so often. As such, I would guess that around 90 percent of them are large-print books. This is not my preference when it comes to reading material, but I'm just happy that the books are there at all.
Usually when I visit, there are numerous folks filing through the various stacks but I am alone in the Western section. Today, however, one of these spoken-of gentlemen was there, too.
We had a short conversation where he mentioned that he got the books for himself and his wife, who has macular degeneration, so he gets the large-print books, though "I have 20/20 vision." (It's little loving deeds like this that make for happy marriages, gents. Remember that.)
I also took the opportunity to ask him for recommendations. After letting me know that his favorite author was
Johnstone
, and saying that he didn't much care for
Max Brand
(too much description), he took a few moments to show me some specific books. Though these initial comments led me to believe our tastes might actually be diametrically opposed, I listened appreciatively and with an open mind. (After all, I won't really know until I've tried them, right?) The four I checked out are below.
The Man Who Believed in the Code of the West by George L. Voss
I found this one myself. The title and premise interested me, as did the portion of the author's bio that states on the back flap of this first edition hardcover (which, incidentally, cost $6.95 new) that "Like James Fenimore Cooper, George L. Voss began writing late in life because he was dissatisfied with what he was reading."
It's about a Harvard graduate who goes out West, and the promotional material calls the character "a combination of
Destry
and
The Man Who Shot Liberty Valance
." And if those three classic-Western references don't seem like overkill yet, it continues, "but he has more charm, more wit, and yes, more
true grit
."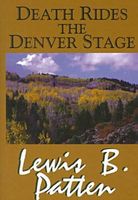 Death Rides the Denver Stage by Lewis B. Patten
I know
Death Rides the Denver Stage
will be a good one, since I've previously enjoyed Patten's short novel
Wild Waymire
. (Not to mention the numerous recommendations of his work by fellow bloggers and authors I admire.)
I also seem to have a liking for "Death does something" titles, given my enjoyment of both
Death Waits at Sundown
and
Death Rides a Chestnut Mare
(possibly my favorite title for a Western, and a damned fine read to boot).
(Patten himself wrote another called
Death Rides a Black Horse
, which has this
fantastic review
on Amazon you should read.)
Killer's Gun by Ray Hogan
Interestingly enough, in searching the electronic card catalog for newer Westerns, I came across the previously unknown name Ray Hogan. The cover to
Killer's Gun
intrigued me with its bold simplicity. So when Hogan was one of the names the elder gent recommended, I snatched it up with eagerness.
The book is a reprint of a 1966 novel by the prolific Hogan, who also has a good number of books available for the Kindle from
Prologue Books
. Luke Wade is searching for the man who killed his father. In the meantime, he gets work on a cattle drive and, against rustlers, manages to find ways to keep his "killer's gun" in good shape.
Jubal Cade #2: Double Cross by Charles R. Pike
My benefactor specifically pointed out this series as he stated that the library had all the volumes except the first. Numerous Web sources suggest that the first three books were written by author Terry Harknett, better known under another pseudonym as George G. Gilman behind the wildly popular and influential
Edge
and
Steele
series. (The Jubal Cade series was then continued to its conclusion by fellow "Piccadilly Cowboy" Angus Wells, with one intervening volume by Ken Bulmer.)
Based on the summary of this book, the first one saw poor old American doctor, trained in England, Jubal Cade losing his British wife to a killer Lee Kincaid and having to take a blind orphan boy under his care. Because of the need for money on his search for vengeance, he becomes a gun for hire. I've only read a couple of the
Edge
novels, but based on that, I'm excited to delve into this other series.