For more of Friday's Forgotten Books, this week visit Sweet Freedom.
The best thing about electronic publishing is the opportunity for authors to get their out-of-print work available once again to readers in a way that gets royalties flowing in their direction. I am very happy to see that C. Dennis Moore's short-story collection
Terrible Thrills
is available as an ebook. Here's the review I wrote back when the print version came out in 2005....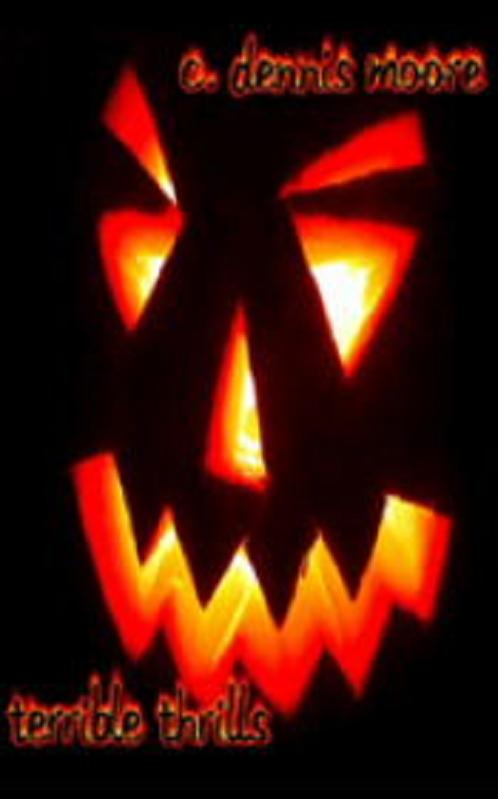 Author C. Dennis Moore definitely knows his way around a short story. His mastery of the form is especially evident in the two dozen examples comprising his debut collection,
Terrible Thrills
(as in "...'When worlds collide,' said George Pal to his bride, 'I'm going to give you some....'").
Conciseness is key in
Terrible Thrills
. Moore has selected only his shortest stores for inclusion: most are around eight pages, with a handful of flash pieces covering only half a page. It is difficult to decide which is more effective.
The flash fiction works like a sucker punch to the eye, but the longer stories — given Moore's economy with words — allow him to drag us through quite a range of terrors. For example, the title story is really two in one, connected by the premise of a Halloween CD with two troublemaking tracks entitled "Murder" and "Mayhem." It feels much longer, but only because so much happens.
Despite this choice of shorter fiction for
Terrible Thrills
, Moore does offer a glimpse of his facility with longer works. Two presumably unconnected stories, "The Strange Thing that Happened at the SpinCycle Laundry" and "The Salvation of Victor," come together within a third, "The Flesh-Method and Myriad." The ending of the latter makes me eager to read the expansion of these stories,
Revelations
.
As good as this whole collection is, some stories stand out about all the rest. "The Legend of Mr. Cairo" is one. It's not the most original selection in
Terrible Thrills
, but that's part of its charm. Its familiarity makes it memorable, the way Moore fulfills our expectations, instead of subverting them, and feels comfortable doing it. I like surprises, but in "Cairo"'s case, predictability works best.
A few more highlights include the personification of the seasons is "Winter's Reign." "Luck of the Draw" combines Shirley Jackson, the Grimm Brothers, and M. Night Shyamalan in a creatively derivative tale with a few surprises. "The Son of Man" dramatically illustrates a New Testament prophecy of the Second Coming (Luke 21:27, to be precise): "And they shall see the Son of Man coming in a cloud with great power and glory." For three friends (who just happen to share their names with saints), it is doubtful whether their "redemption is near," or they're just in deep trouble of the worst kind.
Bodies that cannot be depended upon are the subjects of "Plaything" and "Parliament of Jim." While neither has a truly satisfactory ending, they were both thrilling reads and I especially enjoyed Moore's use of different fonts to represent different points of view. The aftermath of Mr. Seagle's wife Astrid's death from lung cancer also plays out in two very different ways in "Preparations" and "Astrid Like a Candle" — one darkly humorous, the other disturbingly scary.
But if there is a perfect story in
Terrible Thrills
, it is "Working for the Fat Man," which takes a universally familiar concept and gives it a hard twist while remaining faithful to the original feeling of the source. It combines the best parts of "unpredictable" and "not surprising," resulting in a feeling of inevitability, an utter "rightness" to all the events. Look for it to be anthologized for years to come.
The one thread that ties all the stories together is Moore's wonderfully skewed imagination. From the first paragraph, I was drawn in. Moore writes with a voice I know, his phrasings feel similar to my own, and this put me instantly at ease. The more he shocked me, the more I wanted to be shocked. I was ready to go wherever he wanted to take me — even to Enlil (and "Bob's Leg" will tell you all you need to know about that place). In short, reading
Terrible Thrills
is like being tortured by a good friend.